There has been a growing popularity of flat earth in the past few years, and lately it appears that interest is exploding as people around the world are waking up to massive worldwide deception that is getting exposed in governments at the executive levels, in national security agencies, in high tech companies, at universities, in non-profits, in media, in banking and investing, and even at NASA!
The vast majority of Americans have been in a slumber for a long time, like the dwarf "Sleepy" in the 1937 classic Snow White and The Seven Dwarfs. They haven't paid attention to the evil that was creeping into their world everywhere. You'll remember the famous quote attributed to Edmund Burke but now believed to have been written by someone else unknown, "The only thing necessary for the triumph of evil is for good men to do nothing."
For too long good men and good women have done little to nothing to stand against evil in a free country, and Satan's forces have been establishing a beachhead in government and institutions of all kinds. Satan has also been building strongholds in the minds of people through mass propaganda and mass formation psychosis.
But something in the spiritual realm happened in these last few years, something we cannot see but sense with great conviction. This author felt it in September of 2017, some kind of tectonic shift in the spiritual realm, almost as if millions of demons had been released from their dark prisons. The world has changed since then, and like many others, while I'm not naïve, I am almost daily shocked at the boldness of wickedness in our country today.
Christians around the world have expressed their feelings about a new sense of urgency that the Lord is returning very soon, and believers around the world have been saying almost exactly the same thing, "Never in my life did I imagine I would be living in a time such as this."
Evil has increased around the world by an order of magnitude that is hard to even comprehend, and the horrendous evil that has come out into the open and proudly boasted of its wickedness in the guise of spiritual enlightenment has dramatically accelerated of late.
Alas, we are seeing a new and exciting interest by people of all backgrounds seeking truth with a new awareness of the deception that has engulfed them for so long. As if waking from a long slumber, believers and unbelievers are searching for truth everywhere, and they are on alert, because they now know their own government has been lying to them their whole lives about many things.
Flat earth is one of these hot topics that people are pursuing today. Internet searches for information on flat earth have leaped dramatically as people want to know, "Is the whole Copernicus heliocentric theory that the earth revolves around the sun a massive lie of the evolutionists?" They want to know, "Is NASA part of a big anti-theist conspiracy to make us think there is no God of creation and that it all started from a big bang, and are we just happenstance from primordial soup?"
Here's an interesting view of Google Internet searches of the phrase "flat earth," which I'll explain below.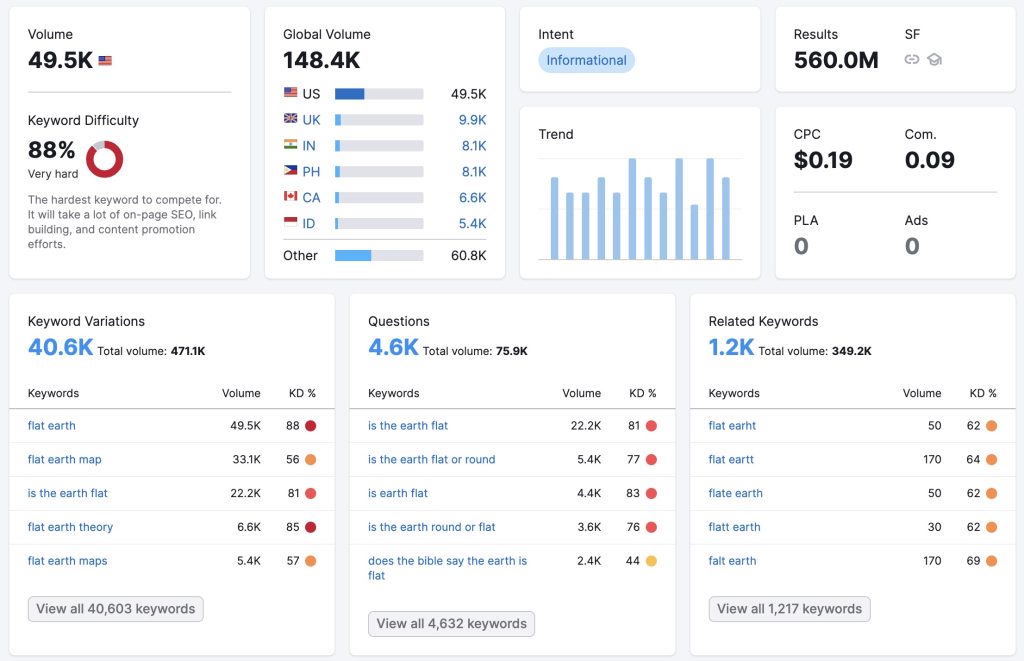 This shows us that 49,500 people search the phrase "flat earth" monthly using Google, that 148,400 people perform the same search globally. There are 560 million URLs in the search results for the phrase "flat earth."
Additionally, in the U.S. there are 33,100 monthly searches for the phrase "flat earth map," 22,200 monthly searches for the phrase "is the earth flat," and 6,600 monthly searches for the phrase "flat earth theory."
In the upper right side of this graphic, we see that no one is running ads using the phrase "flat earth" with 0 under product listing ads (PLA) and 0 under Google ads (Ads). Perhaps selling products or services under the "flat earth" banner has not worked out for anyone who tried, or it could be Google either prohibits such ads, or more likely, allows you to create the ad and accepts your money, but never actually allows people to see your Google ad.
If you've been doing some of your own Internet research, you may have noticed the increase in Youtube videos on flat earth, and especially Youtube videos attacking flat earthers. Google does its best to make sure good pro-flat earth videos and articles do not show up at all in search results. Vimeo and other platforms also have seen an increase in videos and articles on flat earth. Even Amazon is seeing an increase in flat earth books in print, in ebooks, and in audio books, too. At the same time, the attacks have increased against christians who stand for the literal biblical creation story that refutes the heliocentric model. Pray that God would shield us and this site as we share the truth of the Word of God boldly.
One of the primary purposes of this site at BiblicalCosmology.faith is to expose the lies and reveal the truths of the Word of God. In these last days, we can be sure that evil will continue to increase, and those promoting the heliocentric evolutionary model will step up their efforts to turn people away from God.
May God be revealed once again in creation as he was through most of human history, and may:
"The heavens declare the glory of God; and the firmament
sheweth his handywork." Psalms 19:1 (KJV)